Vintage Thonet Wood Frame Armchair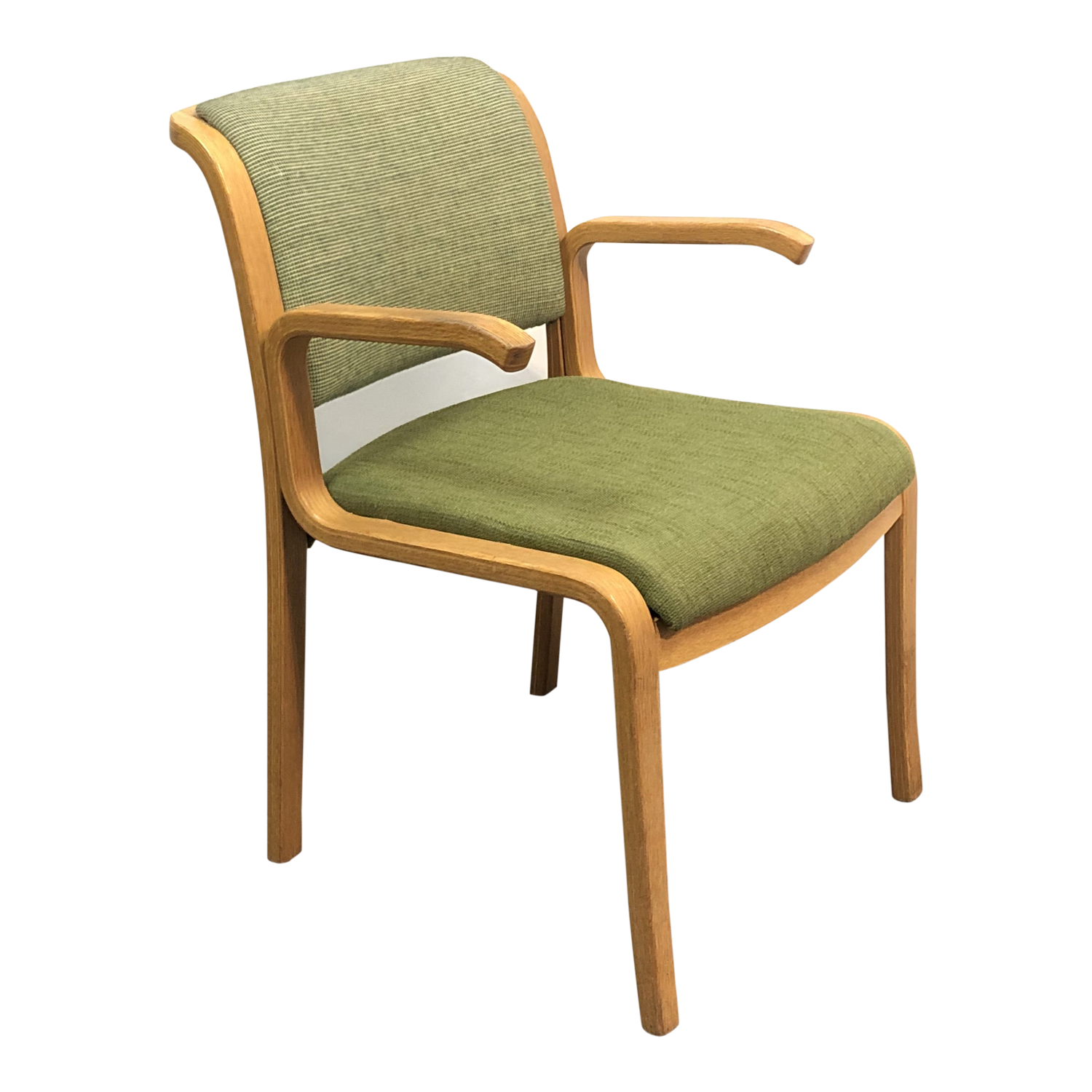 Vintage Thonet Wood Frame Armchair
Vintage Thonet arm chair in two toned green fabric with original makers tag.
Dimensions: 22ʺW × 21ʺD × 31ʺH
Period: 1980s
Condition: Great vintage condition consistent with age and use. Light wear on wood. Upholstery is in great shape.
Styles: Mid-Century Modern
Brand: Thonet
Materials: Upholstery // Wood
Seat Height: 18.0 inches
Seat Interior Depth: 20.0 inches
Seat Interior Width: 18.5 inches
ABOUT THE DESIGNER
THONET
Thonet is and was most notably a chair company that dates back to the 19th century, however going into the 20th century other furniture categories were added to the roster, however rare. His name often mispronounced "tho-nay", but actually pronounced "toe-net", Michael Thonet was a German-Austrian cabinet maker born in 1796. He is best known for the gently curving lines of his chairs which started their illustrious career by winning a bronze medal at the World's Fair in 1851. Timeless, yet still at home amongst more modern decor, vintage and used Thonet accent chairs and dining tables are very versatile and collectible today.
THE ESSENTIAL GUIDE TO VINTAGE THONET FURNITURE
The iconic bentwood furniture designs by Michael Thonet are recognizable throughout the world. They've made their way from a casual coffeehouse chair to treasured vintage pieces, all the while bending the rules of furniture design. By developing and employing a technique that bends wood, Thonet was able to create among the world's first sculpted chairs, table, stools, coat racks, and couches. Later, design masters like Hans Wegner would come to employ wood bending techniques that were originally spearheaded by Thonet.
A HISTORY OF THONET
Hailing from Boppard, Germany, Thonet began his woodworking career as a master cabinet maker in 1819. It is here that he developed his own way of creating bentwood furniture by heating layers of wood veneer to create impressive curved designs.
Thonet's accomplishments didn't go unnoticed, as he soon caught the eye of Austrian Chancellor Prince Metternich, who invited Thonet to Vienna. While in Vienna, Thonet learned the art of parquet flooring. It wasn't until 1849 that Thonet and his five sons began making furniture for their very own store.
In 1859, Thonet Bros, as the store was known, created the most famous of their designs with the chair No. 14. Today, it is known throughout the world as the Viennese Coffeehouse chair with over 50 million of these vintage Thonet chairs having been sold.
By 1871, Thonet Bros was growing in popularity. It expanded its operations with locations throughout Europe, Russia, and the U.S. A French subsidiary was also opened in 1929, that also concentrated on bent steel designs based off of Thonet's wood furniture look.
While Thonet has consolidated its operations over time, it has branched out to plywood and tubular designs today. Its U.S. operations are owned by CFGroup under the Thonet Industries U.S.A name. Both the Germany family operations and the U.S. business continue to produce bentwood and curved material furniture designs today.
ATTRIBUTES OF VINTAGE THONET FURNITURE
Today, bentwood style furniture is made in much the same way that Thonet created it more than two centuries ago. Wood is steamed or soaked with water until it is pliable. It is then bent into the desired shape – usually curved lines and scrolls. The result is a classic yet casual design that can be seen in many homes across the country. Whether you find a new or used Thonet piece, it is still handcrafted one at a time by Thonet woodworkers.
Many of the vintage Thonet furniture pieces that grace home interiors had a previous life as a club, hotel, shop or restaurant chair, as their design was durable and comfortable, making them a prime pick for these venues. Many of these pieces have survived the decades and are available as used furniture designs.
Today, Thonet furniture carries on the design appeal that Thonet intended with his bentwood designs, incorporating curved backs, legs, and arms. Most used bentwood chairs by Thonet incorporate a deep black or brown stain with seats that are canned or solid. The Viennese Coffeehouse chair has this exact design. Wood pieces are made from most any type of wood with a particular bias towards beech.
Thonet was truly an innovator of his time, creating an art form that has transcended time and become recognizable worldwide. Used Thonet furniture will grow your home collection and give you a piece the embodies the revolutionary ideas of Thonet.